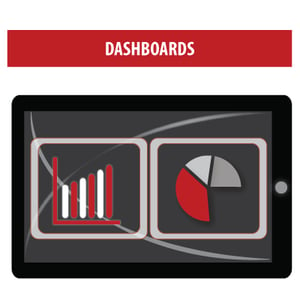 Almost every product that you see on the market today has dashboards, including Gravity Software™ (Gravity). But not all dashboards can serve all companies. Gravity is built on the Microsoft Dynamics 365 (aka Microsoft CRM) platform, so you can easily access all of your information to create your own dashboards. And that's important, because your dashboards will look different than other users' dashboards. Your dashboards will have different information on what's most important to you, so you can do your job more efficiently.
Easy to Create
You can easily use a wizard that allows you to create a dashboard to meet your business process needs. Pick the type of dashboard you want; e.g. you may want to select a graph, a list, or a web frame. Then you can select from any field attribute in Gravity that you want to include in your dashboard by utilizing the Advanced Find feature. You may want to see a graph on your posted invoices and you may want to see them by salesperson. Whatever you decide, you'll create your dashboards with the specific data that you want to see. For example, you may want to track your top ten customers, receivables, recent activities, or track favorite websites in one personalized dashboard. Or you may want to check your inventory levels so you can locate a specific product or part. What if you need more information about the chart that you created? Simply click on that section of the chart to drill down and get further details on that specific data. Yes, it's that easy!
Share, Not Share
What's even better, a user dashboard is only visible to the person who created it. You can decide to share your dashboards with specific users or not, but you can also create a system dashboard that can be visible by all users. It's up to you.
Learn more and schedule your online demo today! My business is connected. Is yours?
Gravity Software
Better. Smarter. Accounting.