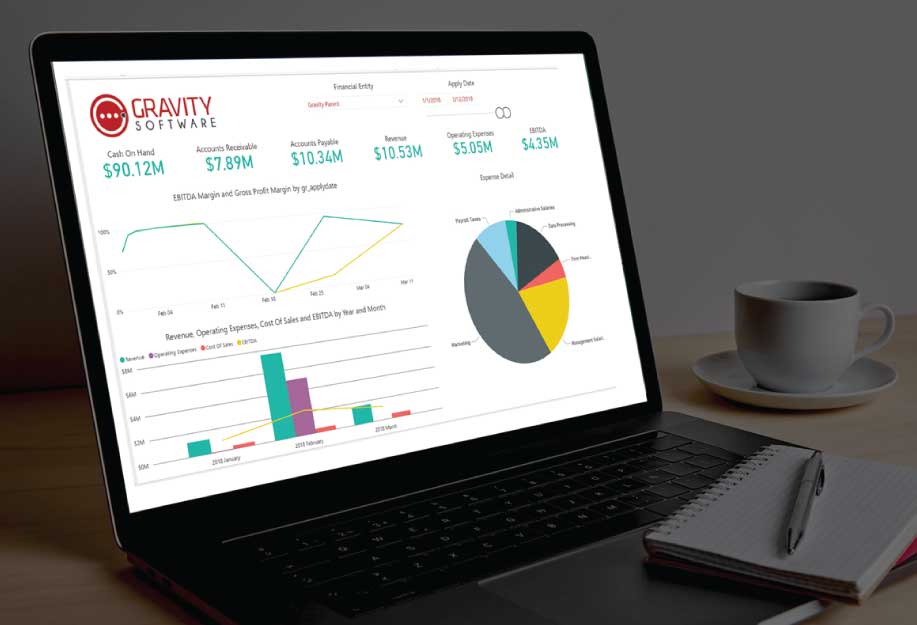 Visualize and Analyze
Bring your data to life with Microsoft's Power BI. Transform your company's data into real-time rich visuals so you can focus on what matters to you most.
Monitor Your Data
Power BI gives you the ability to monitor your important data throughout your organization and from all the apps you depend on. It doesn't matter what type of data you want or where it lives, Power BI allows you to connect to hundreds of data sources.
Interactive Reports
Power BI provides the tools so you can create stunning and interactive reports in seconds. Easily explore your data with easy to use drag-and-drop capabilities.
Real-Time Access to Your Financials
Gravity Software's cloud-based accounting app is written on the Microsoft Power Platform (aka Dynamics 365 CRM). Gravity combined with Power BI Dashboards lets you capture every accounting transaction the way you want to visualize! You decide what you want to track and view what's most important to your business.
Start making better informed decisions on your business and get real-time insights into all your lines of business with Gravity Software and Microsoft's Power BI. Learn more and schedule your online demo today!
Gravity Software
Better. Smarter. Accounting.