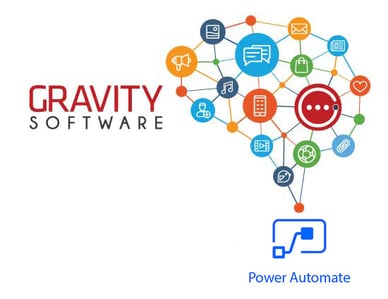 "Do More, Work Less!"
Having difficulty connecting all of your business's applications? It's important to have your information efficiently move to and from each person in your organization without being re-entered, but that seems impossible nowadays. If your business has specialized applications, this becomes even more difficult, considering you don't have control of the technology. Need a change? A developer could solve your problems, but how long would that take (and how much)? There's no longer a need to have all of your information and applications separated like islands, and it's thanks to Gravity Software (Gravity)'s integration with Microsoft Power Automate (formerly Microsoft Flow).
What is Microsoft Power Automate?
Power Automate is a data pump that moves your company's data from one place to another without the hassle and cost of a developer. It's built into Gravity's platform through Microsoft Dynamics 365, which is backed by over four million users worldwide. You can easily add your business's key apps through integration, not complex code or programming. There are hundreds of connectors to platforms and applications, so your business could easily add the apps that it needs in one centralized place.
Popular business apps include:
Outlook
Twitter
Dropbox
Mailchimp
Excel
Slack
SQL Server
And Hundreds More!
How Can I Use Power Automate in My Business?
When your business applications are connected, you can do some pretty awesome stuff. For example, Power Automate features a multi step flow on its website. When a new tweet is posted, you can check if the person tweeting has over 100 followers, create a new record in your CRM, and add members to a marketing or email list with just a few clicks. It's easy to set up, too. All you need to do is create a series of steps to grab the data you need, manipulate it, and then add it into the selected app. Email approval systems, calendar integrations, and more are also easily set up through Power Automate, making your organization's day-to-day operations easier than ever.
When you use Power Automate to connect with Gravity's advanced cloud accounting application, you can integrate your business's transactions from so many places with minimal effort. Since Power Automate is built into Gravity's Dynamics 365 platform, it's a breeze to get started. By selecting Power Automate from the Gravity menu, you can set up your first workflow in seconds.
Trust Gravity's integration with Microsoft Power Automate to allow your business to run more efficiently and boost your employees' productivity. Want to learn more? Schedule your online demo today to get started!
Gravity Software
Better. Smarter. Accounting.