Accounting Software for Wholesale Distribution Companies
Tracking inventory at multiple warehouses efficiently can be tedious when you have to log in and out of different databases. Accounting software for wholesale distribution should give wholesale distributors the tools they need to track inventory at multiple warehouses down to individual bin locations. The right software will not only help you meet your customer's needs, but it will also increase your bottom line.
Deliver better financial results
Track products wherever you do business
Multi-location inventory capabilities allow you to track items across multiple warehouses and automatically sync that information with your financial data.
Easily generate reports to optimize warehouse operations
Dimensional reporting allows you to define transactions how you want, enabling you to drill down into your financials to better manage budgets, assess cash flow and much more.
Greater visibility leads to greater efficiency
Robust dashboards can be personalized to meet your needs, so you can assess critical financial information in one comprehensive view.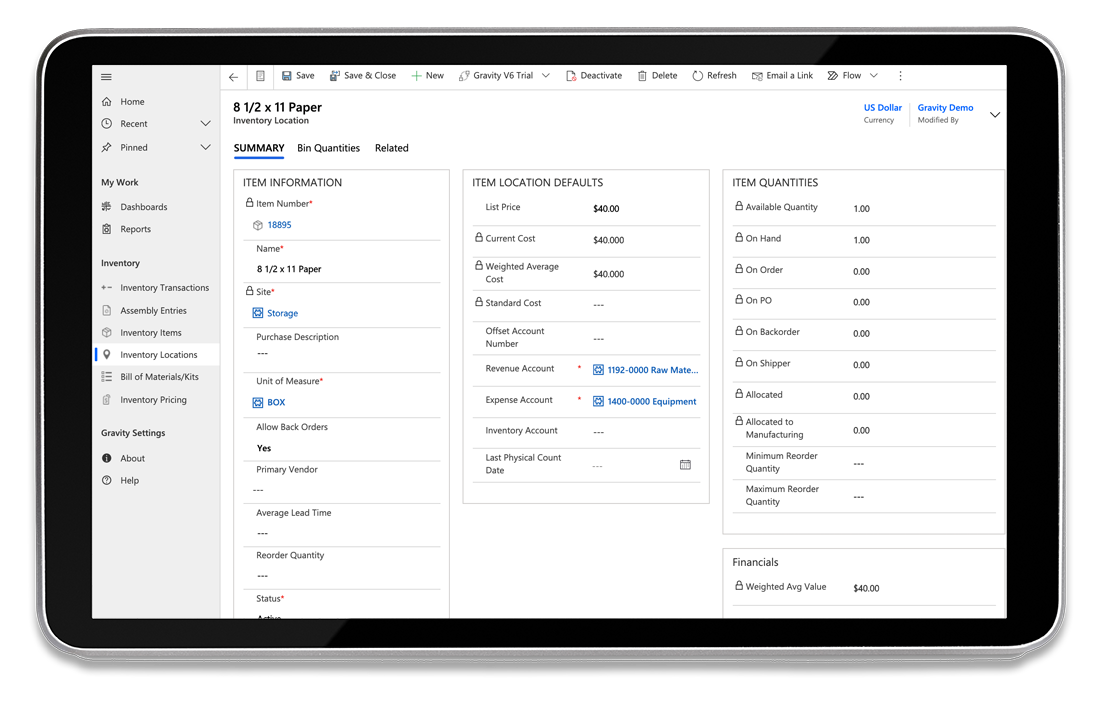 Why Gravity for Wholesale Distributors?
Gravity cloud-based accounting software for distribution companies provides wholesale distributors with the tools they need to track inventory at multiple warehouses down to individual bin locations. Today, wholesale distributors need to go further and understand their customers' needs and profitability. Gravity's seamless integration to Microsoft's world class CRM system (aka Dynamics 365 CE) enables companies to track from lead to sale.
An award winning, trusted solution
More ways to move your wholesale distribution business forward
Accounting resources for wholesale distribution companies
Frequently
asked
questions What is distribution accounting software?
Distribution accounting software will help your company streamline the quote-to-cash process and provide visibility into your order process. You'll be able to track, control and manage your inventory from multiple warehouses or locations, and you can automate purchasing activities to add control and accuracy to your inventory management.
What makes accounting for wholesale distribution companies unique?
Fulfillment has never been more important for small to midsize businesses (SMBs). Consumers demand and expect fast shipping, and in order to meet these demands, distribution centers and warehouses need a reliable way to accurately measure and manage inventory. Under-stocking would negatively impact customer experiences, whereas overstocking could hinder efficiency and increase costs. Many SMBs still rely on manual processes to track inventory and reconcile with transaction-level data rather than doing it all in one place automatically.