Gravity Software is the preferred accounting solution for mid-sized organizations with multiple locations or entities, including family offices, franchises, healthcare, investment and holding companies.
With Gravity, CFOs and finance directors no longer have to log in and out of different databases to manage intercompany transactions. They can compile month-end financial reports in significantly less time while improving transparency across their organization. Because Gravity is built on the Microsoft Power Platform, they also get the benefits of built-in business intelligence, automated workflows and enterprise-level security without the price tag of a large ERP system.
The power behind Gravity
The Microsoft Power Platform natively integrates with many of the applications your business likely already uses, including Office 365, Microsoft Teams, Power Automate, Power BI and hundreds of others. That means as a Gravity user, you can:
Create your own workflows without a developer

Collaborate using the apps your team already knows and loves

Avoid spending thousands to upgrade to a cloud-native solution or pay for data hosting

Have peace of mind knowing your data is protected with best-in-class security practices

Get up and running faster with simple, partner-supported onboarding

Save money if you're already a Microsoft Power Platform user

Benefit from continual investments in AI and new technology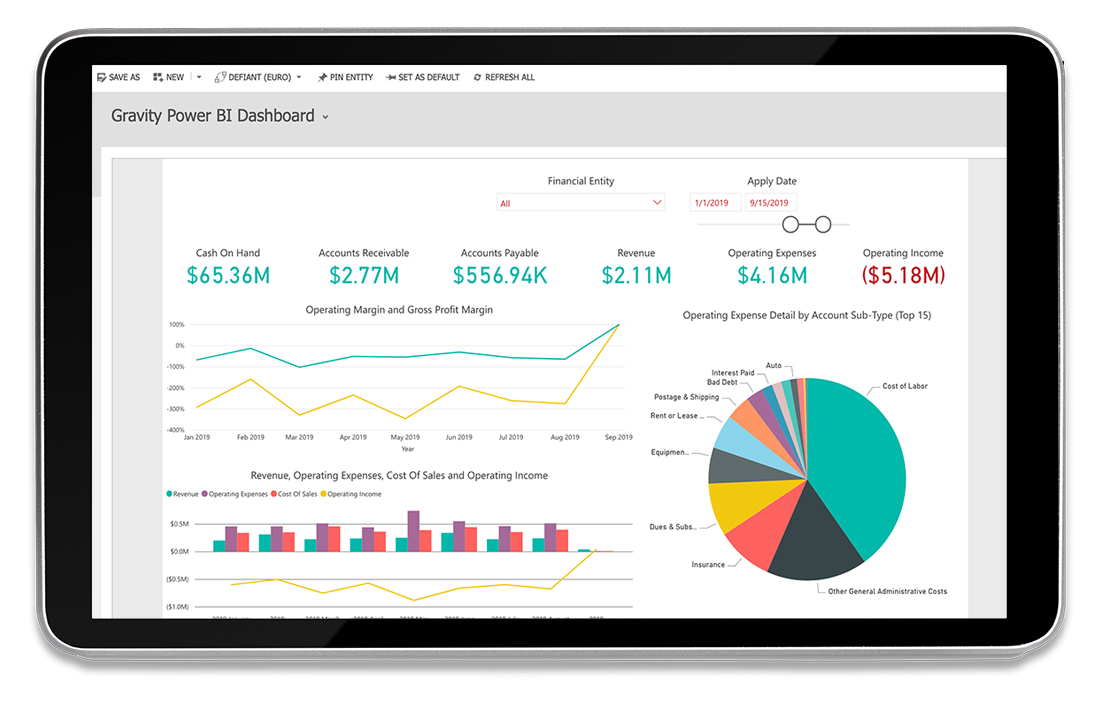 Gravity's innovative features
In addition to all the features you'd expect in an accounting software system, Gravity makes it easier than ever to automate manual processes and get paid faster. Now you can:
Create workflows to automate purchasing approvals
Automate currency conversions and automatically update exchange rates
Automatically reconcile hundreds of transactions at once
Use AI to read invoices in seconds with Microsoft Cognitive Service
Direct ACH payments from one bank account to another faster
Aggregate transactions from multiple banks around the world
Invoice customer and receive payments though a secure payment portal
Gravity's features are continually evolving to keep up with the needs of our customers and new advancements from Microsoft.
Manage multiple companies with ease
QuickBooks, Xero and most legacy accounting systems lack features that make it easy to manage financials for multiple companies and franchises, forcing users to log in and out of databases with no way to easily consolidate and compare numbers between companies. One of Gravity's most loved feature is the ability to manage financials from multiple companies in a single database – our customers know that Gravity can support their growing business long into the future whether they have 2 or 2000 legal entities.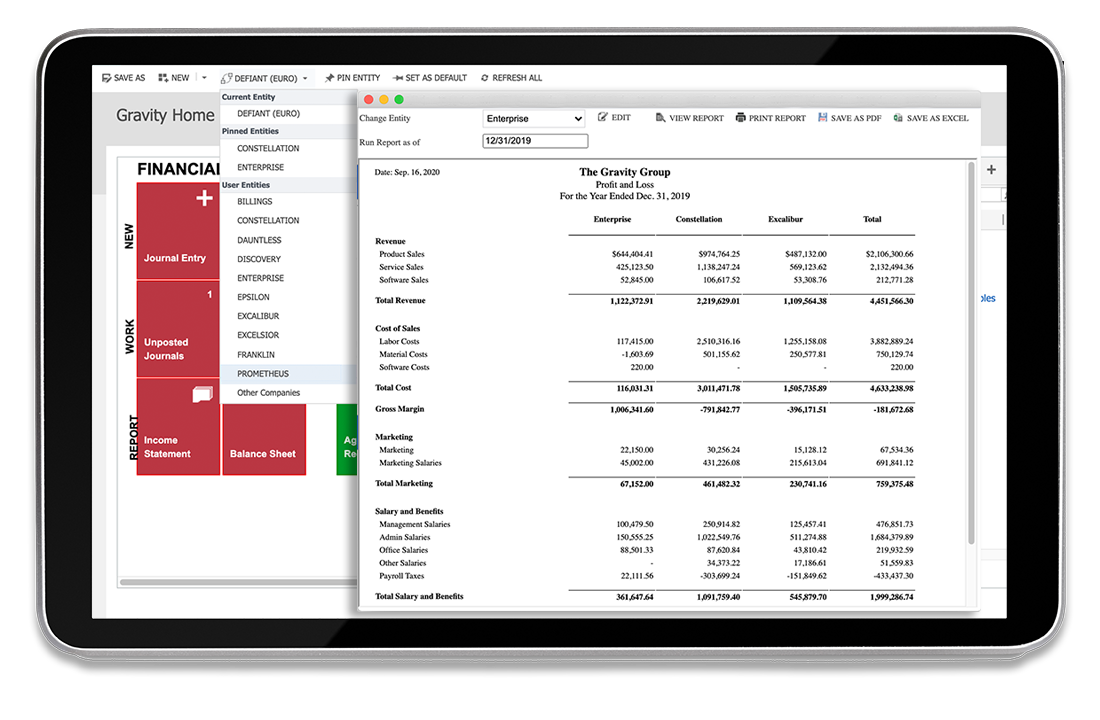 Ready to move your business forward?
Gravity's robust features are designed to leverage your company's greatest asset, its people. Our guiding principle is to simplify the lives of end users while providing your company with the platform it needs to grow. With features that can be personalized to meet your needs, Gravity works how you want it to work, eliminating headaches and increasing efficiencies to drive results for your business.
Check out our top 10 reasons to upgrade to Gravity Software and see how you'll have everything you need to take your company to the next level.
G2 has recognized Gravity as a high performer and a user-friendly solution for several years. It has also been named among the top 15 accounting solution provider by CFO Tech Outlook
An award winning, trusted solution
More ways Gravity helps empower
better, smarter accounting: