These mid-sized renewable energy companies are growing fast
---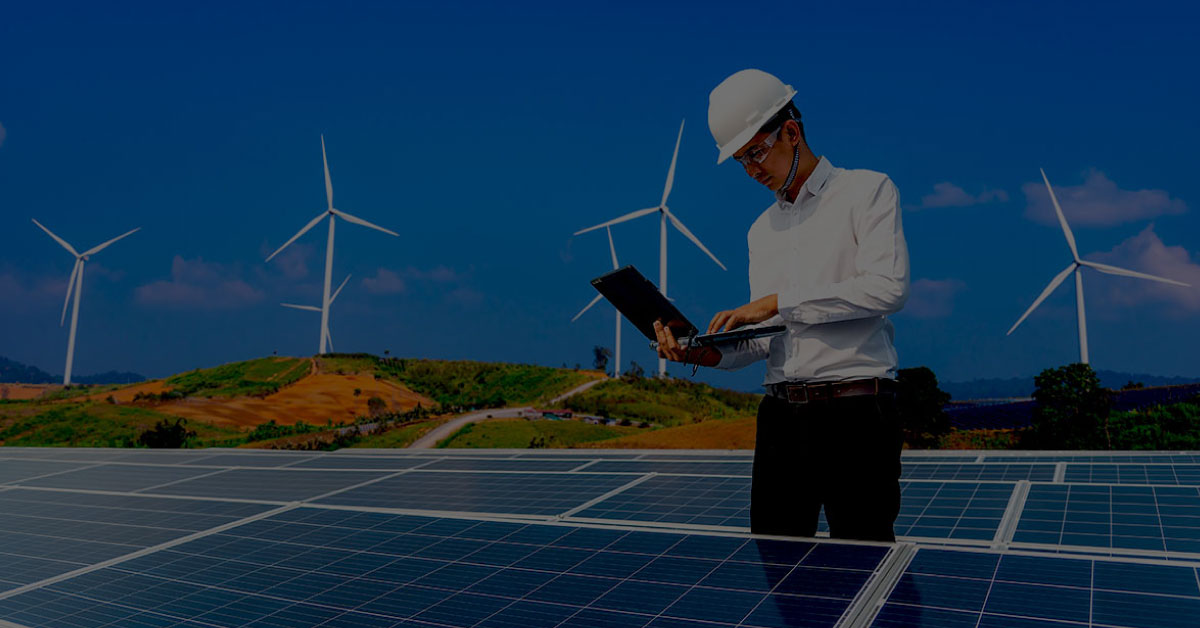 Even though they don't burn fossil fuels, these top renewable energy companies are on fire.
Lower prices and new incentives and policies to reduce carbon emissions continue to drive increased demand for clean energy sources. Solar photovoltaic systems, for example, have declined in cost by 85% over the past 10 years, according to Deloitte's 2022 Renewable Energy Industry Outlook, making them accessible to more households. Almost half of U.S. states have policies in place to enable community solar for renters and other residents who are unable to install their own panels.
Coupled with the fact that other forms of power such as natural gas, green hydrogen and marine energy are gaining traction along with wind and solar energy, renewable energy sources are growing more mainstream by the minute. While stock tickers worldwide are dappled with symbols for the largest renewable energy companies, the mid-market features plenty of fast-growing enterprises that may soon become household names. They're names you should know whether you're considering investing in renewable energy or you're just trying to stay up to date on the competition.
Top renewable energy companies in the mid-market
Aspen Power Partners
Founded: 2020
Based in: Dallas, Texas
Aspen Power Partners describes itself as a "distributed generation platform focused on solar and storage assets across the U.S." Something of a one-stop solar energy shop, Aspen's team consists of professionals who assist with every step in the process of developing and financing community, multifamily, and other distributed solar and storage installations. According to Pitchbook, The Carlyle Group recently acquired a $350 million stake in Aspen Power Partners, while Aspen has itself acquired solar farm developer Safari Energy.
Fervo Energy
Founded: 2017
Based in: Houston, Texas
Founded by Stanford researchers and experienced oil and gas engineers, Fervo Energy leverages innovations developed for the oil and gas industry, such as horizontal drilling, to produce "24/7 carbon-free" geothermal energy. The company has been making a splash since its inception, garnering attention from the likes of Bill Gates and Forbes. Most recently, Fervo signed a 15-year contract to supply energy to the 3 million customers of southern California's Clean Power Alliance — not long after raising $138 million in its latest funding round.
Hero Future Energies
Founded: 2012
Based in: London, with offices in India and southeast Asia
Hero Future Energies (HFE) is the cleantech arm of India-based industrial conglomerate Hero Group. HFE has its hands in many aspects of the renewable energy industry, from producing wind and solar power to developing new energy storage solutions and working with emerging power types such as green hydrogen. The company has received several awards and in September made an agreement to receive $450 million in funding from New York-based private equity firm Kohlberg Kravis Roberts.
Octopus Energy
Founded: 2015
Based in: The U.K., with operations in several countries including the U.S. (Texas)
Renewable power producer and supplier Octopus Energy serves about 2 million customers worldwide. The company received the Energy Marketing Conferences' Retail Energy Provider of the Year Award for 2020, its first year doing business in the U.S. In the U.K., the company recently agreed to purchase its rival, Bulb, which has 1.5 million customers. Octopus Energy has also been integral in forming the Electric Universe, a partnership linking more than 460 electric vehicle charging networks throughout Europe.
Orcan Energy
Founded: 2008
Based in: Munich, Germany
While residential consumers generally must rely on a power plant to generate the energy they use in their homes, industrial plants often generate plenty of energy as a result of their operations— the issue is with harnessing it. Orcan Energy's second-generation ORC (Organic Rankine Cycle) solutions help industrial customers convert the waste heat from their plant's processes into green energy. In September, the company received a total investment of 28.5 million euros to increase its international traction.
Nightpeak Energy
Founded: 2022
Based in: Oakland, California
Although new on the renewable energy scene, Nightpeak Energy has made a big first impression by garnering up to $200 million in backing from Energy Spectrum Capital. The company "brings together industry veterans … to develop a portfolio of resources aimed at addressing the growing capacity and reliability needs of a decarbonized grid," according to a press release announcing Nightpeak's formation. The company states its initial focus will be on developing projects in the U.S. West and Texas.
Recurrent Energy
Founded: 2006
Based in: Austin, Texas; San Francisco; and New York City
A wholly-owned subsidiary of Canadian Solar since 2015, Recurrent Energy bills itself as "a leading North American utility-scale solar and energy storage project developer" that also acts as the U.S. and Canadian project development arm for Canadian Solar. According to its website, the company has secured more than $13.4 billion in capital from leading investors and lenders and has developed more than 2 GWac (gigawatts) of operating utility-scale solar projects. Of note, the founding partners of Nightpeak Energy worked together at Recurrent Energy.
Why choose Gravity Software to power your renewable energy accounting?
If you hope to become a leading renewable energy company, you need to be reliable, efficient, and growth-minded, all while remaining flexible enough to handle unexpected situations. You need the same qualities from your accounting tools.
Here's why Gravity Software should be the go-to solution for your renewable energy accounting.
Multi-entity accounting
As a renewable energy company, you may want to expand your reach through branch offices, subsidiaries, or M&A activity. You may decide to use special purpose entities to raise funding or manage tax liability. With Gravity, you can handle the accounting for all of these using a single database, giving you the ability to share information among entities and create consolidated reports as needed.
Multi-currency accounting
The renewable energy sector is undeniably global, with supply chains and demand extending across many countries. Gravity's three-tier multi-currency system allows your enterprise to operate on the world stage without skipping a beat — including the option to automatically update exchange rates.
Natively built on the Microsoft Power Platform
Gravity users have access to Power BI, Power Automate, and Power Apps, along with dozens of third-party integrations so you can create a comprehensive, personalized solution built for the way your renewable energy company works. Gravity also uses the Microsoft cloud, so it's an inherently more sustainable software solution because there's no need for on-premise servers. It also uses Microsoft's robust security practices.
See how our renewable energy accounting software helps you achieve sustainable growth. Schedule a demo today.
Gravity Software
Better. Smarter. Accounting.
---
Nov 17, 2022 4:34:55 PM