It's no news accounting can be a stressful profession, because of the responsibility and the hours involved.
That can be especially true at the end of each month. In one poll of U.S. accounting and finance professionals, 82% said the month-end close negatively affects their personal lives, 60% feel more stressed at that time, 36% are challenged to schedule regular life events and 19% see an impact on their personal relationships.
The same poll pointed to one solution, however: better automation. In fact, four of five respondents said use of technology lets them reduce their closing time, and more than half said the time savings amounts to at least one day a week.
With that in mind, time-starved accountants may want to consider these suggestions for streamlining work habits and processes in order to save time.
1. Invest in efficient that's easy to personalize
Find a solution that allows for the consolidation of your most important information so you aren't constantly logging in and out of databases. Gravity Software cloud-based accounting software steps up to the plate by empowering you to personalize your dashboard to your work habits and efficiently incorporate multiple other solutions that add value to your processes.
2. Batch everything possible
Finish tasks within the same or similar category before moving on to an entirely new area of work. This will keep you on track and focused.
3. Avoid unproductive meetings
How many times have you struggled with a long meeting turned venting session that could have been summed up in a brief memo? Limit the meetings you initiate to 15-30 minutes, only invite key people and provide agendas. Ask to be excused from other meetings if they don't require your in-person expertise.
4. Delegate
Training others to do your work takes time and effort, but pays off in the end.
[Related – 5 tips: Better Efficiency for Your Accounting Team]
5. Answer emails during set time periods
If not an urgent matter, try responding to emails at specific times every day so you don't interrupt your concentration while working on other projects. You will also be more likely to pay closer attention to the details of the emails when you set aside time just for this task.
6. Use downtime wisely
Could you use commuting or waiting time to catch up on routine tasks? Cloud-based tools such as Gravity Software enable such work virtually anywhere, anytime. "Because of Gravity I only have to be in the office two to three days a week," notes Robert Everman, chief operating officer for Oklahoma-based investment and asset organization Onefire Holding Co. "It's really brought me my family back. I'm so happy about the way things went, and very encouraged for the future of this organization."
7. Set realistic deadlines
Build in extra time for contingencies when establishing wrap-up dates with clients or company execs. Save short deadlines for special requests instead of wearing yourself out trying to achieve breakneck speed for every project.
8. Don't skip break times
Studies show trying to plow right through your day without a mental break can be counterproductive.
9. Stay away from internet rabbit holes
In one Accountemps survey of accounting and finance professionals, 25% pointed to non-business internet use as their top distraction on the job.
10. Be proactive about hiring help
It's easy to be in denial about the need for a larger accounting staff, but if you're consistently working late hours and coping with work-related stress, it's probably time. Options include new full-timers, part-timers or temps. "Professionals in this field are no strangers to peak periods, but keep in mind that the worst time to hire is when you already have your hands full," advises RobertHalf.com.
Read more tips on bringing your accounting methodology up to current standards by downloading our free guide on the Top Skills Modern Accountants Need for 2020 and Beyond.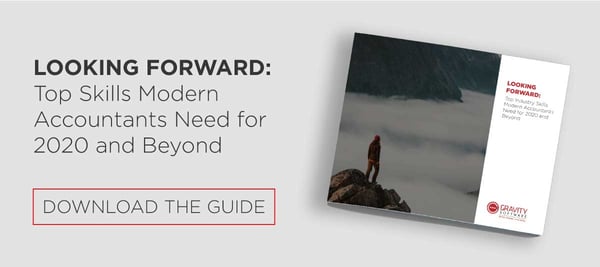 Or simply schedule an online demo of Gravity Software today!
Gravity Software
Better. Smarter. Accounting