True multi-entity accounting online with one database to manage
Shared master files
Automatically distribute line items to multiple entities and automatically manage 'Due To' and 'Due From' accounts.
Consolidations
Easily consolidate multi-entity, multi-tiered financials and operational reports.
Inter-company transactions
Share vendors, customers and chart of accounts among some or all entities.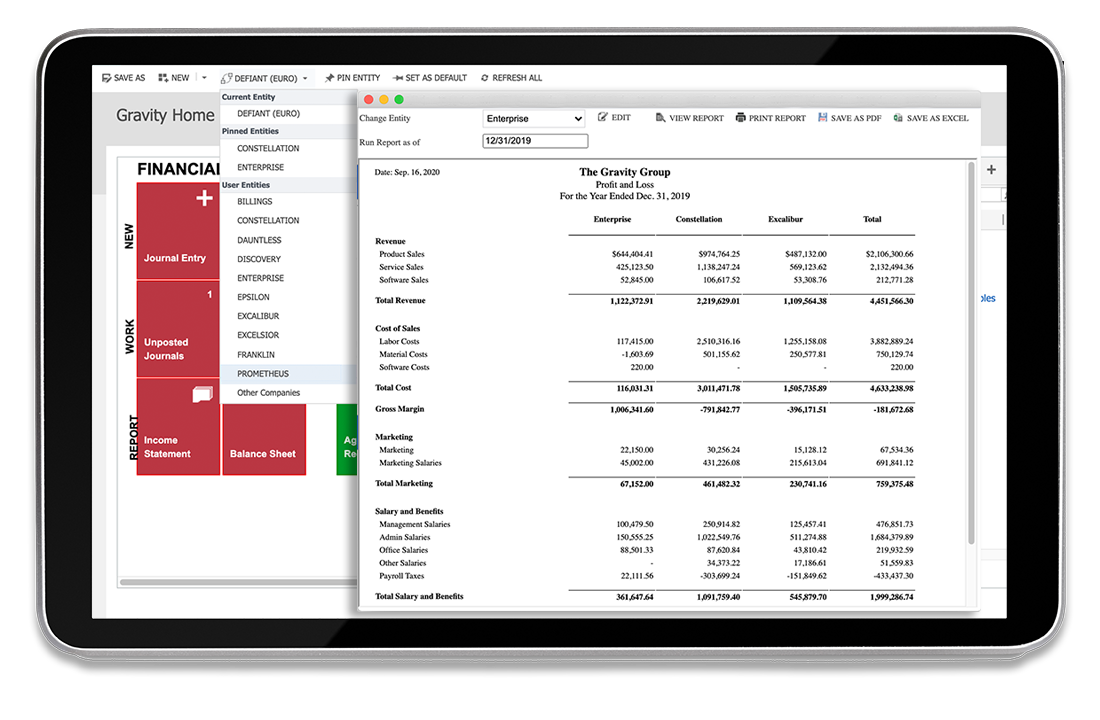 No more islands of information
If your company has multiple entities, you likely spend too much time switching between multiple databases, redundant data entry and spreadsheet consolidation. You could save time, costs and software license fees on each company you manage with a more streamlined solution.

Gravity Software allows organizations to set up multiple legal entities in one database. Expenses can be entered on one screen and distributed to unlimited companies. For each company, the due to and due from accounts will be balanced. Master information like the chart of accounts, customers and vendors can be shared or secured as needed, and reports can be customized by any criterion.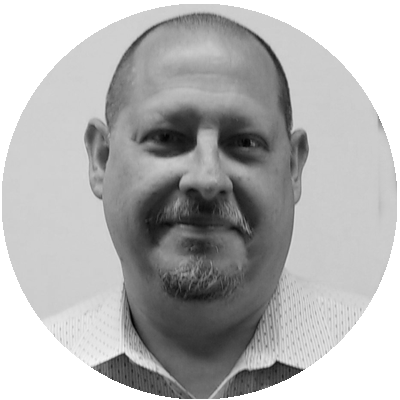 "The ability to create and prepare reports that roll up all 17 of our separate companies with ease. Working remotely, especially during the pandemic has been phenomenal! In fact, although I contracted Covid, I was able to continue with my job and it was a saving factor!"
Robert Everman, CEO
Onefire Holding Co.
More great features you'll love
An award winning, trusted solution
Resources to power your business
Discover how to streamline accounting across multiple locations or entities without having to juggle multiple databases or make dozens of duplicate data entries.
See how Dr. Tavel Family Eye Care achieves greater efficiency and saves their team time after switching from Sage 100 to Gravity Software.
Frequently
asked
questions What is multi-entity accounting software?
Multi-entity accounting software makes it easy for CFOs and accounting teams to manage inter-company transactions and financial reporting for multiple companies in a single database. While entry-level accounting software solutions like QuickBooks require you to set up a separate database for each entity and copy and paste shared transactions multiple times, leaving room for errors, a true multi-entity accounting solution allows you to manage transactions for many companies within a single screen. You can maintain a shared list of vendors and customers and easily distribute accounts payable and accounts receivable across multiple companies. You can automatically convert transactions in multiple currencies. Multi-entity accounting software also gives you full transparency into your overall business performance with easy-to-read dashboards and consolidated reporting.
Who uses multi-entity accounting software?
CFOs, business owners, controllers and accounting teams of fast-growing companies with multiple locations or legal entities use multi-entity accounting software to improve efficiency and profitability. Multi-entity accounting software with automated workflows eliminates many manual tasks, such as revenue recognition for subscription billing companies, and sending billing reminders. It's also ideal for chief administrative officers of healthcare systems with multiple locations, as well as business franchise owners. CFOs of family offices representing ultra-high net worth individuals with multiple companies in their portfolio also benefit from multi-entity accounting software that includes personalized reporting for each family member and investment management features.
How much does multi-entity accounting software cost?
Multi-entity accounting software typically costs a few hundred dollars per user, per month, with separate one-time costs for implementation. The best multi-entity accounting software makes it easy to add users and functionality at any time. Monthly subscription fees should also include data hosting, maintenance and upgrades the provider releases automatically. Some accounting software providers bill themselves as cloud-based solutions but charge separate fees for hosting and require you to update to the latest version each year, often for additional costs. It's important to consider the overall value you'll get from investing in cloud-based multi-entity accounting software, including saving significant costs by eliminating hardware, hosting and IT support and saving time each month by eliminating manual processes.
How does Gravity's consolidated financial reporting work?
In entry-level accounting solutions, you have to copy and paste information from each entity into one spreadsheet. This is a time-consuming and frustration process for multi-entity companies. With Gravity, you can create quick financial statements — balance sheets and income statements — with single click. You can also generate complex financial statements based on segments such as the main account and a specific location. In a single screen, you can pull in various segments or dimensions, such as specific events or projects. You can add columns across for a single total to see profit and loss by various operational functions. This significantly reduces the time it takes to compile monthly consolidated financial reports.
Does Gravity include business intelligence tools?
Yes! Gravity Software is a comprehensive accounting system natively built on the Microsoft Power Platform, which includes Microsoft Power BI as one of its core applications.
With the Gravity-Power BI combination, there's no extra effort and almost no cost to access business intelligence tools.
Gravity also integrates with Microsoft Dynamics 365CE (Microsoft CRM) and a host of other business applications, giving your team real-time visibility across all aspects of your organization.