Robust mid-market accounting solution with one database to manage
---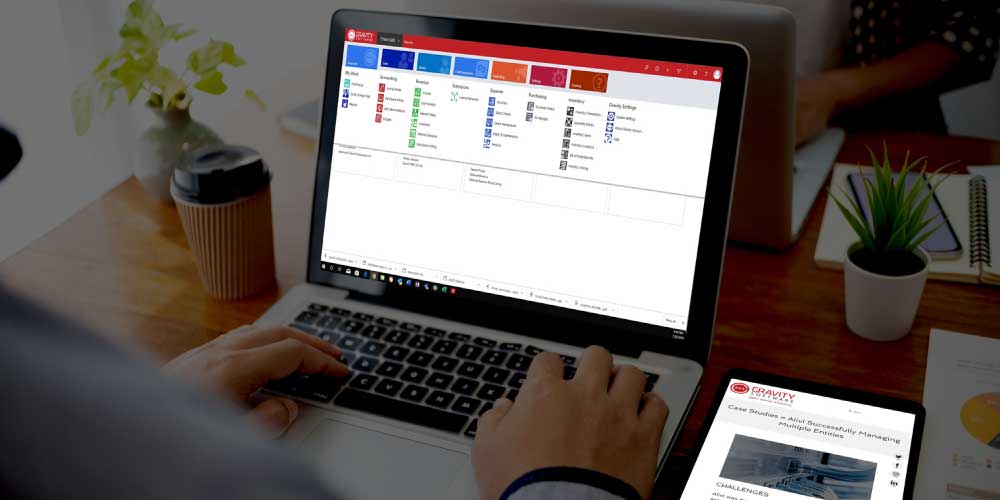 Chances are, your business is growing, you started with QuickBooks and now you have so many add-on solutions to make it work. Yes, that's right: those dreaded disparate systems which I call islands of information! All those databases to manage. How inefficient is that? Is that a good use of your employees' time? Well, not really!
Perhaps you had a look at upgrading to a new accounting solution in the past and got sticker shocked. Yes, that big jump to an enterprise accounting solution that was just too much for a growing small to medium sized business (SMB). But once you've settled down and gathered yourself, you realize that, just like growth, change is inevitable. What if you could have a more robust accounting solution with just one common database to manage on just one platform? The ability to have real-time data so you can make better informed decisions on your business. Well, you can!
Testimonial

We're now able to get our (previous) months closed by the fourth day of each month, with all reports printed and everything ready to go. It's just a tremendous savings in terms of screen time and effort. I can get those done way ahead of time, get them planned ... then just jump from one to another and get them closed. It's almost automatic.

Robert Everman, Chief Operating Officer, Onefire Holding Co.
Cloud-based solution
What worked when you first started isn't working out so well anymore. Those reports that used to be completed and done by the end of the week, are taking at least twice as long. And, if you're producing consolidated financials in Excel with so many different databases, how accurate are your reports? It's so crazy when I am on a sales call and I hear numerous times that companies are using Excel for most of their accounting. And yes, if you're using QuickBooks, many of you can relate, it's called death by Excel!
So, if your business is struggling to produce standard, and periodic reports, it's time for a change. Why not give your business back hours and even days every month? Time that you can spend adding value to your company with an automated system that is streamlined and secure. It's time to make that move to a robust cloud-based solution like Gravity Software® (Gravity). With Gravity, businesses can operate from anywhere, at anytime without all the startup costs associated with other accounting solutions.
One database, one user interface
Gravity is built on the Microsoft Power Platform (aka Dynamics 365 CRM). A robust platform that hosts over 5 million users worldwide and has become one of the most reliable and scalable platforms available today. SMBs can easily go from 3 users to 30 users to 300 users without ever worrying about the platform. So simple, yet brilliant!
As a business owner, you have passion and drive, but hard work and adrenaline will only get you so far. Instead of getting lost in the daily grind, identify the inefficiencies and add value by guiding your business as it grows. Take advantage of Gravity's cloud-based technology so you can…
Save money by growing your business more efficiently

Market smarter, manage customers and sales on one platform

Save time and log in once

Work from anywhere, with real-time insights into your business operations

Easily consolidate your financial and operations reports

Drill deep into data with powerful dashboards

Increase productivity by using the technology that's familiar to you
Gravity truly simplifies the way you do business. For example, Gravity has one-screen processing of transactions: you can easily enter vendor invoices, make approvals and print a check, all from one screen. How cool is that?
How the Only Accounting Software Built on Microsoft Power Platform Will Transform Your Business Financials
Advanced features, real business processes
As your business grows, you need highly automated tools and services with feature rich applications to move your business forward. Gravity has feature-rich capabilities like:
Advanced Find Queries- Seamless integration with Excel, slice & dice data with pivot tables

Complete Transaction Audit Trail– Provide full transparency to your activity

Dashboards- Easy access to all of your information in Real-Time

Dimensional Reporting– Tracking locations, events, machinery, etc.

Operational Scorecard- Automatically calculate financial, operational and activity-based metrics

Full Audit Trail – Complete audit trail on every transaction

Full Role Based Security– Ensure your data integrity

Multi-Entity- Manage Multiple Entities in one database at no additional cost

Multi-Location Inventory– Inventory adjustments and transfers with reason codes. Easily process customer and vendor returns.

Purchasing – Automated Approvals for Purchase Orders

Segmented Chart of Accounts– Easily setup profit centers, divisions

And Add-on Modules like: Revenue Recognition, Subscription Billing, Job Cost, and Time & Billing
As companies grow and become more sophisticated, they need to track more than basic financial transactions. Gravity fills the gap between entry level accounting software like QuickBooks and expensive enterprise apps like Sage Intacct. Streamline your business financials with Gravity Software and schedule your online demo today. My business is connected. Is yours?
Gravity Software
Better. Smarter. Accounting.
Jun 6, 2018 8:00:00 PM